Free Shipping on orders over $75
HeavyDuty Fiberglass Filter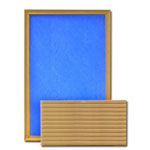 HeavyDuty filters offer superior strength and durability in any application. They are used in all types of HVAC systems to protect coils from dirt and as prefilters to extend the life of higher efficiency filters. HeavyDuty filters are constructed with heavy duty, premium grade fiberglass. A woven mesh retainer is added to the air leaving side on all standard sizes for additional support. Designed for commercial and residential air filtration systems. Available in both 1" and 2" depths.

PREMIUM PERFORMANCE WITH EXTRA STRENGTH
Each HeavyDuty Fiberglass Panel Filter is assembled with continuous beads of hot-melt adhesive applied to the frame's inside perimeter on both the air-entering and air-leaving sides to firmly secure the pad/retainer assembly to the frame. Each HeavyDuty Fiberglass Panel Filter contains AAF©-made fiberglass media ensuring that you receive the filtration efficiency you expect.
• High Arrestance
HeavyDuty filters are constructed with AAF manufactured premium grade fiberglass media. More fibers ensure HeavyDuty media have higher arrestance and clean the air better than competitive filters.
• High Dust Holding Capacity
The media is coated with a light adhesive to increase the amount of dirt the filters can
hold. Higher dust holding capacity means longer service life and lower operating costs.

40x magnification shows the spun fiberglass skin
of the StrataDensity filter pad.
DESIGNED FOR EASY HANDLING AND DISPOSAL
The chipboard filter frame, free of sharp edges, makes the panel easy to install and remove. After removal, the filter can be safely folded for compact disposal.

PERFORMANCE INFORMATION
Rated Initial Resistance (inches in W.G.)

1"

2"

@300 FPM

.10

.13

@500 FPM

.20

.28

@625 FPM

NA

.38
Recommended final resistance is .50" w.g. for each thickness.
Average Arrestance @ 300 FPM

1"

2"

70-75%

80-85%
Rated MERV 4
All performance data is based on the ASHRAE 52.1-1992 test method. Performance tolerances conform to Section 7.4 of ARI Standard 850-93.
Underwriters Laboratories Classification
IP Panel Filters are UL Class 2. Testing was performed according to UL standard 900 and CAN-4-S111.
Operating Temperature Limits
IP Panel Filters are designed for continuous operating temperatures up to 150©F
(66©C).
Size Chart
Nominal (Actual Size)
8 x 16 x 1 ( 7 7/8 x 15 7/8 x 3/4 )
8 x 30 x 1 ( 7 7/8 x 29 7/8 x 3/4 )
10 x 20 x 1 ( 9 7/8 x 19 5/8 x 3/4 )
10 x 24 x 1 ( 9 7/8 x 23 5/8 x 3/4 )
10 x 25 x 1 ( 9 7/8 x 24 5/8 x 3/4 )
10 x 30 x 1 ( 9 7/8 x 29 5/8 x 3/4 )
10 x 36-1/4 x 1 ( 9 7/8 x 36 1/4 x 3/4 )
12 x 16 x 1 ( 11 7/8 x 15 5/8 x 3/4 )
12 x 18 x 1 ( 11 7/8 x 17 7/8 x 3/4 )
12 x 20 x 1 ( 11 7/8 x 19 5/8 x 3/4 )
12 x 24 x 1 ( 11 7/8 x 23 5/8 x 3/4 )
12 x 25 x 1 ( 11 7/8 x 24 5/8 x 3/4 )
12 x 30 x 1 ( 11 7/8 x 29 5/8 x 3/4 )
12 x 30-5/8 x 1 ( 11 7/8 x 30 1/2 x 3/4 )
14 x 20 x 1 ( 13 7/8 x 19 5/8 x 3/4 )
14 x 24 x 1 ( 13 7/8 x 23 5/8 x 3/4 )
14 x 25 x 1 ( 13 7/8 x 24 5/8 x 3/4 )
14 x 30 x 1 ( 13 7/8 x 29 5/8 x 3/4 )
15 x 20 x 1 ( 14 7/8 x 19 5/8 x 3/4 )
15 x 25 x 1 ( 14 7/8 x 24 5/8 x 3/4 )
15 x 30 x 1 ( 14 7/8 x 29 5/8 x 3/4 )
15 x 30-5/8 x 1 ( 14 7/8 x 30 1/2 x 3/4 )
16 x 16 x 1 ( 15 7/8 x 15 5/8 x 3/4 )
16 x 20 x 1 ( 15 7/8 x 19 5/8 x 3/4 )
16 x 22-1/4 x 1 ( 15 7/8 x 22 1/8 x 3/4 )
16 x 24 x 1 ( 15 7/8 x 23 5/8 x 3/4 )
16 x 25 x 1 ( 15 7/8 x 24 5/8 x 3/4 )
16 x 30 x 1 ( 15 7/8 x 29 5/8 x 3/4 )
18 x 18 x 1 ( 17 7/8 x 17 7/8 x 3/4 )
18 x 20 x 1 ( 17 7/8 x 19 5/8 x 3/4 )
18 x 24 x 1 ( 17 7/8 x 23 5/8 x 3/4 )
18 x 25 x 1 ( 17 7/8 x 24 5/8 x 3/4 )
19 x 27 x 1 ( 18 7/8 x 26 7/8 x 3/4 )
20 x 20 x 1 ( 19 5/8 x 19 5/8 x 3/4 )
20 x 22-1/4 x 1 ( 19 5/8 x 22 1/8 x 3/4 )
20 x 24 x 1 ( 19 5/8 x 23 5/8 x 3/4 )
20 x 25 x 1 ( 19 5/8 x 24 5/8 x 3/4 )
20 x 30 x 1 ( 19 5/8 x 29 5/8 x 3/4 )
22 x 22 x 1 ( 21 7/8 x 21 7/8 x 3/4 )
24 x 24 x 1 ( 23 7/16 x 23 7/16 x 3/4 )
24 x 30 x 1 ( 23 7/16 x 29 5/8 x 3/4 )
25 x 25 x 1 ( 24 5/8 x 24 5/8 x 3/4 )
10 x 10 x 2 ( 9 7/8 x 9 7/8 x 1 3/4 )
10 x 20 x 2 ( 9 7/8 x 19 5/8 x 1 3/4 )
12 x 24 x 2 ( 11 7/16 x 23 7/16 x 1 3/4 )
14 x 20 x 2 ( 13 7/8 x 19 7/8 x 1 3/4 )
14 x 25 x 2 ( 13 7/8 x 24 5/8 x 1 3/4 )
15 x 20 x 2 ( 14 7/8 x 19 5/8 x 1 3/4 )
16 x 16 x 2 ( 15 1/2 x 15 1/2 x 1 3/4 )
16 x 20 x 2 ( 15 7/8 x 19 5/8 x 1 3/4 )
16 x 24 x 2 ( 15 7/8 x 23 7/16 x 1 3/4 )
16 x 25 x 2 ( 15 7/8 x 24 5/8 x 1 3/4 )
18 x 24 x 2 ( 17 7/16 x 23 7/16 x 1 3/4 )
20 x 20 x 2 ( 19 5/8 x 19 5/8 x 1 3/4 )
20 x 24 x 2 ( 19 5/8 x 23 5/8 x 1 3/4 )
20 x 25 x 2 ( 19 5/8 x 24 5/8 x 1 3/4 )
20 x 30 x 2 ( 19 5/8 x 29 5/8 x 1 3/4 )
24 x 24 x 2 ( 23 7/16 x 23 7/16 x 1 3/4 )
25 x 25 x 2 ( 24 5/8 x 24 5/8 x 1 3/4 )